Johnny & Lady, the Modena's pair of foxes, 2010 january-may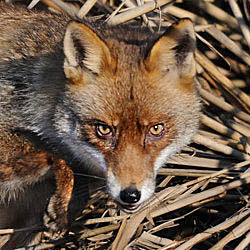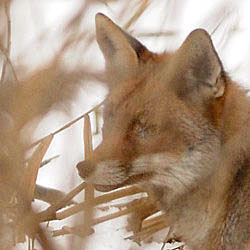 Jonny
Lady
What the fox means to me with just three words: sacrifice, injustice and love.
Sacrifice
The fox is a very difficult subject.
This wild animal prefers the night time then it's very rare to see one; especially in the Modena plain they are very shy and diffident; In many years I've seen it just once.
To have more chance of seeing a fox is necessary to sacrifice yourself and to prepare carefully place and time of the photo session.
Injustice
The excessive human activity and the indiscriminate hunting to large predators (bears, wolves, lynx, foxes, etc.) reduced them to animals that are going to be extinct and impacted heavily on the ecosystem. Human operation sometimes does irreparable damage on natural ecosystems. You can just consider the amount of ungulates that lives in some areas of the Reggio Emilia apennine, once a favorite food of predators (with problems of overcrowding, inbreeding, disease and accidents).
If the killing of a chicken by a wild animal is seen just as a loss, without any tolerance for the other species that stay in the planet over man, this can increase criminal people that kill rare priceless animals by poisoning and shooting. Some speech like "the fox kills for fun without eating their prey ..." are absolutely wrong. No natural predator kills for fun or malice, they do it only to survive.
The only predator that kills even for fun is the man.
Every year control plans are organized by most of italian regions to kill hundreds of foxes. This is very unfair.
Love
When I met Annalisa in the Oasis "La Francesa", she was coming back from an observation session to the fox. A real obsession for her .. when we fell in love, I absorbed all her huge passion for this beautiful mammal. We decided together to try to photograph a fox; then we met our Johnny and Lady.
These are nickname of "our" foxes. Yes, our, because as I read an article by Bruno D'Amicison the december 2009 of the quarterly journal Asferico, everyone is searching his fox, the one with he can no è alla ricerca della propria volpe, quella con la quale establish a mutual trust, to follow the story and share moments of life.
Modena plain is not a National Park where you can easily find a fox; then when last year a gentleman told us he had repeatedly seen a pair of foxes near Modena, we pricked our ears ;-)

So it was that by January 2010 we decided to spend all our photo sessions in the area of Modena that he showed us.
Fortunately there was a wooden box, with consequent advantages for the preparation of the photographic set and it was just necessary to mask the loophole with a camouflage netting; the result was low invasive on the surrounding environment. On the other hand, the very low height of the loophole forced us to stay constantly huddled: it hurt our necks! The visibility was quite limited.
29-January-2010
Unfortunately the first two sessions I was alone :-(
I decided to go in the middle of the day to avoid to freezing; I arrived at 13.30 o'clock. The view I had was a lake completely frozen.
After one hour, amazing, I saw something noooooo there was a fox walking on ice hidden by thick reeds! But no .. there was another!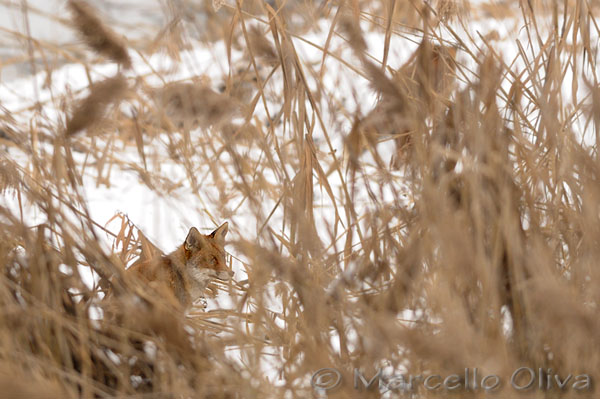 Lady female fox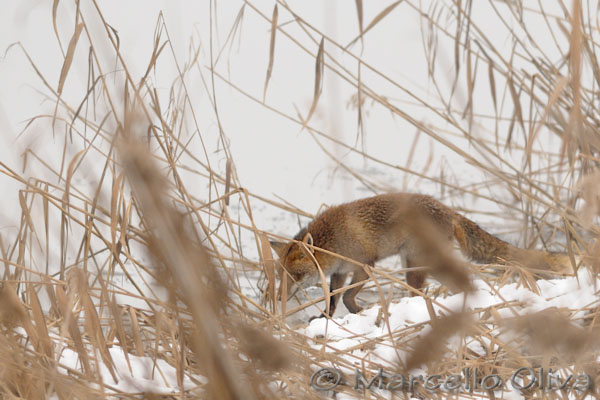 Lady female fox
It disappeared in two seconds. How exciting. My heart was pounding. I was able to see them at the first time. I couldn't wait to say it to Annalisa.
Seeing the direction they had taken, I thought that if they continued to walk straight, probably they could emerged later, so I mounted the multiplier 1.4 x and I waited.
Few minutes later, my prediction came true! The male fox Johnny waited the arrival of Lady and they took a walk in the middle of the frozen lake. Amaizing view.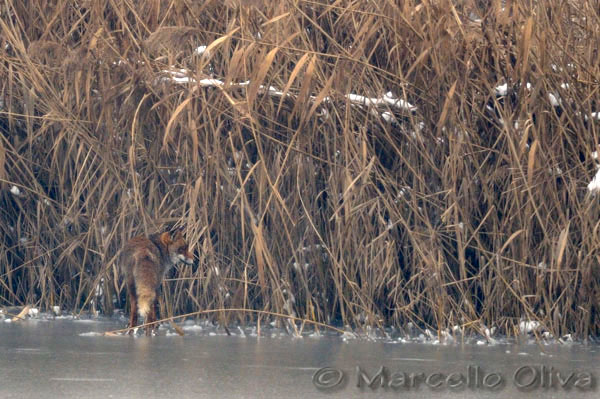 Johnny, male fox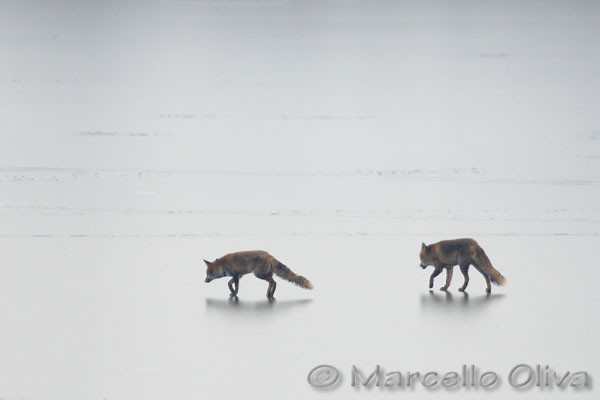 Johnny & Lady, pair of foxes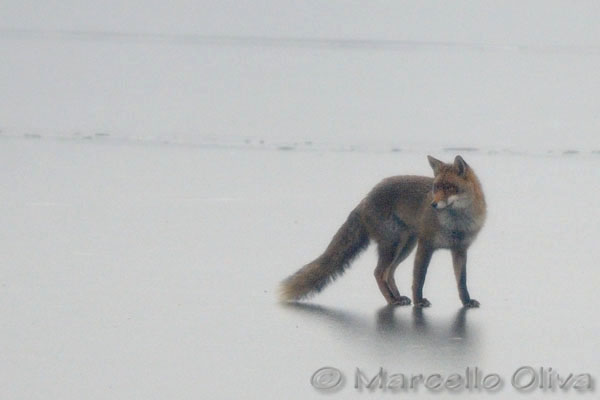 Johnny, male fox
03-February-2010
I tried to change area using another wooden hut similar to the previous one, to have a better idea of the area and any movements of Johnny and Lady.
I arrived at 8.40 in the morning to see if there was more activity. It was very cold and remaing motionless for about 6 hours doesn't help me. At 11.20 with my huge surprise a fox appeared, it was Johnny. Unbelievable, two session, two sighting, and both during daylight. Anna didn't believe me :-D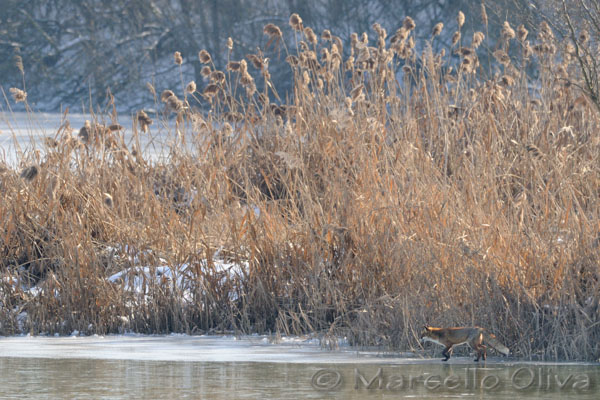 Johnny, male fox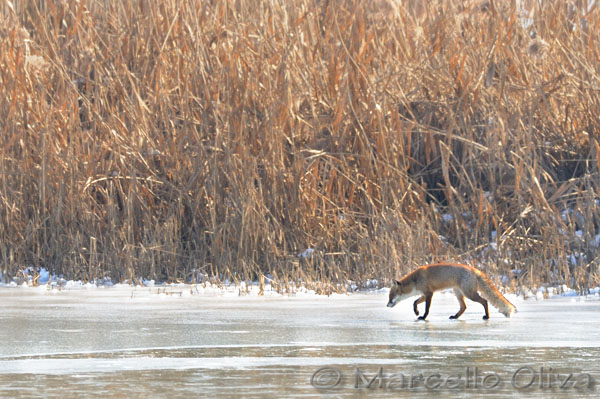 Johnny, male fox
A few moments later Johnny was gone.
06-February-2010
This time even Annalisa could be present, but in order to have better chances of seeing the foxes we divided into the two wooden huts. I saw nothing all day, whereas Anna, at 17.00 o'clock, saw Johnny marking the territory, and especially saw Lady that was hunting in front of her! She was excited, she did it and I was really happy for her. Even Anna met our foxes.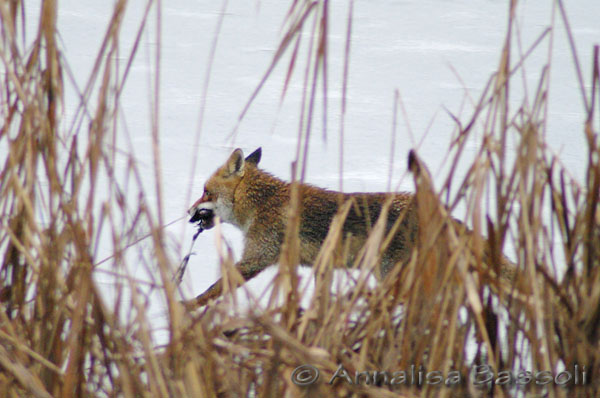 Lady, female fox hunting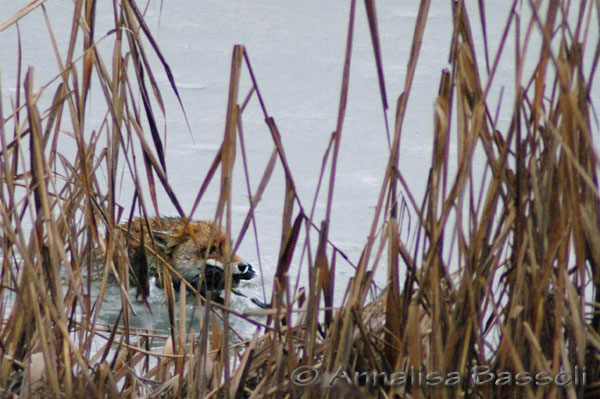 The ice was broken under Lady
13-February-2010
I was alone....but it was a fortune..
This day was going to be quite strong.
After a whole morning without seeing anything, at 14:20 far away I saw Johnny and Lady close to their den. But there was a problem. Lady had a problem. She was limping hard and collapsed.
Zooming in the camera display, I realized that the right front leg had been injury by a trap.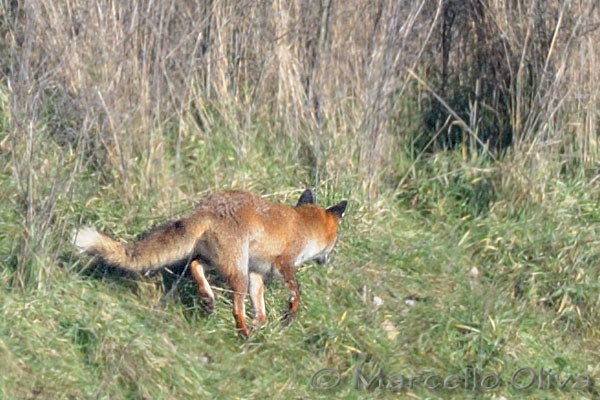 Lady, female fox injured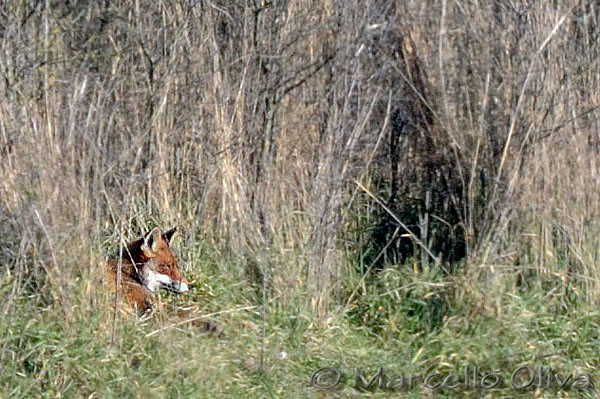 Lady, female fox injured that collapse
I was very disappointed for our foxes. And angry. ONE PAIR OF VOLPI HAS A TERRITORY FROM 12 to 50 square kilometers; WHO COULD HAVE A DAMAGE FROM THIS PAIR OF FOXES?!? WHY THE MAN SOMETIMES CAN BE SO CRUEL WITH OTHER SPECIES THAT POPULATE THE EARTH?!?!

I understood that I had to find the right way to tell it to Annalisa ..
After about 20 minutes, while still reflecting on the status and future of our foxes, I heard a sound very close to me, something was moving in the reeds. At one point, a fox appeared, it was Johnny! I had never seen he so close to me. Unfortunately I still had mounted focal multiplier, so I couldn't frame it entirely. But I had a satisfaction that I had very few times in my life ..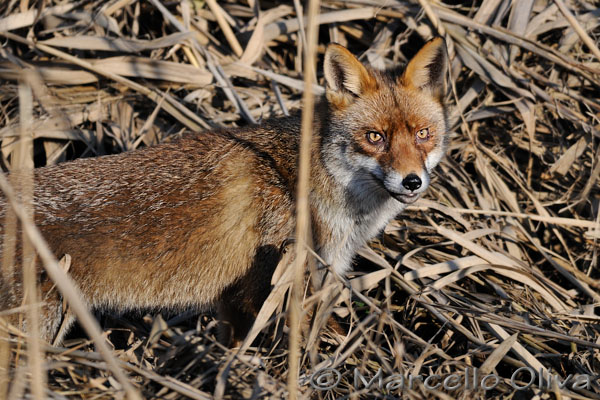 Johnny, male fox
21-February-2010
Just for few minutes, I could see Johnny hunting far away. He was alone and I was thinking on the health of Lady. Annalisa was demoralized .. Many years to see them and now someone would like to kill them..
06-March-2010
A fox came out far away. I was sure it was Johnny, but he seemed very tired and he was moving slowly; I was pessimist. I thought that Lady was dead, then Johnny was depressed and gradually weak. But after I carefully watched the pictures and I realized that it was Lady! So she was alive! She tired, but she was recovering :-D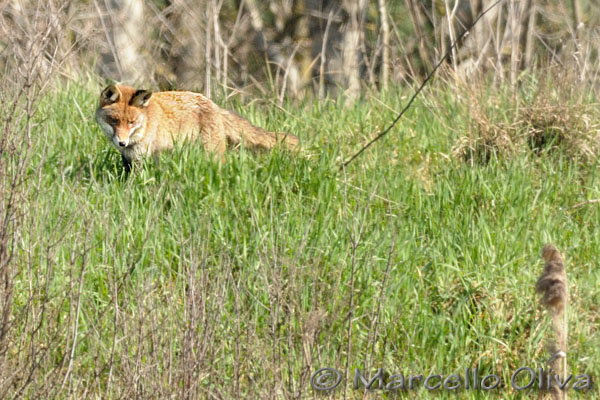 Lady, female fox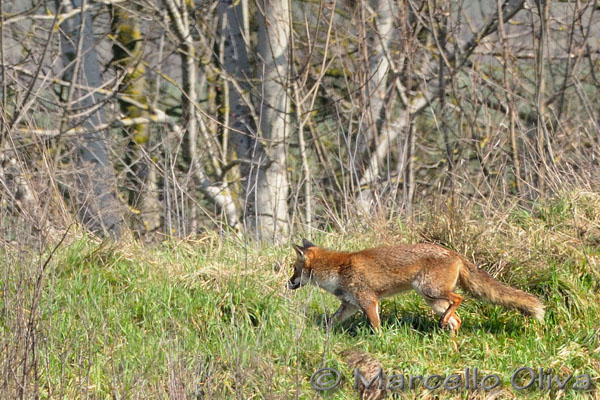 Lady, female fox
14-March-2010
We could see one fox far away just for few seconds.
From that date until early May there was many unlucky photo session; we saw nothing. During one of these I took some notes.

Chronicle of a failed photo session:

6.00 o'clock I'm inside the wooden hut.
In the silence I prepare the equipment thanks to the headlight. I position th camouflage netting, and I slowly open the little window.
It's dark.
Half past 6am, no trace of the sun.
The weather is not good, it's cloudy ..
It's almost 7am and it starts to rain heavy.
The rain increased and I tell myself that I could stay sleeping :-(
I begin to feel a bit cold, I cover better myself, there was 10 celsius degrees (not the -4°C of January, but I wasn't dressed enough).
I continue to recognize the areas of the cave and the area in front of the cabin but nothing ..
Something positive..
If it rains a lot there will be few people around and this help me. Moreover when it rains animals are usually less alert, probably because they can hear less noise and smells ..

agrgrrgrrr .. it still raining. 7.18am.
I'm trying to sleep..
I can't ..
The sun came out on the gray clouds, but it still raining.
It stops, but nothing. Hundreds of photos at a snail .. How sad .. 8.38am, grgrgrggagar, I seen nothing ... and it's very cold.
9:37am it still raining and there is nothing to see.
Just go
We returned many times at the observation point, but without success. Due to the increased vegetation itwasn't possible to see our foxes. But we are sure that they are fine and we hope to see them next winter!

Goodbye from Marcello, Annalisa, Johnny and Lady ;-)